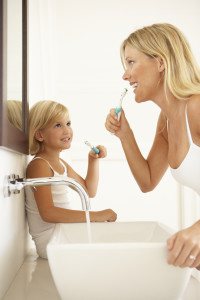 As a parent, you have an important role in teaching your children the importance of oral health care. Good eating habits as well as daily cleaning of teeth can be taught at home. Prevention of cavities and other disorders related to poor oral health begins at home.
Your children's dental health needs change as they grow. Help keep their smiles bright at any age with these helpful pointers:
For babies and toddlers:
Just like everyone, even small kids need to have regular checkups done. The American Dental Association recommends getting their checkups when the first teeth appear. Children will eventually lose their baby teeth but when they first appear, it helps children eat and even speak well.
1. Even if your baby has no teeth yet, make sure to clean their gums at least twice a day or after every feeding.
2. Don't put them to sleep with milk or juice. When putting them to sleep with a bottle, just use water.
3. To soothe teething pain, let your child chew on a clean teething ring or a wet cloth.
4. If your child is on medication, brush their teeth or rinse their mouth afterwards. Children's medicines may contain sugar that becomes enamel-damaging.
5. For kids aged 2 and up, supervise them when brushing their teeth. Use only a pea-sized amount of toothpaste with fluoride levels suitable for their age. Toothpaste should never be swallowed.
For pre-teens and teenagers:
As they grow, your children's dental needs become similar to adults. At this time, they should already be getting regular dental checkups from professionals.
Here are some things you can do at home:
1. Keep a healthy diet that's rich in fruits and vegetables. Avoid too much artificially sweetened food and drinks.
2. Always drink plenty of water.
3. Minimize sweets in between full meals.
4. Brush at least twice daily with the recommended toothpaste. Brushing can also be done after every meal.
5. Flossing once per day is equally as important as brushing. Flossing maintains gum health and prevents tooth decay.
6. Visit the dentist regularly for checkups and cleaning.