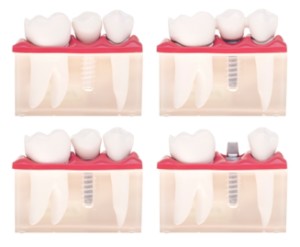 Dental implants are fused to your jawbone to provide support for artificial teeth. These are replacement tooth roots. These are treatment options for patients suffering from tooth loss due to gingivitis, tooth decay, or physical injury.
These implants offer a foundation for replacement teeth. Dental implants feel more comfortable compared to the traditional treatments such as dentures or bridges.
To receive an implant, healthy gums and enough jawbone space are needed. It is also essential for you to keep the implants in good shape. With proper care, dental implants can last a lifetime. However, these require good dental hygiene and regular dental checkups to keep them in shape.
Dental implants come in all sizes, which include mini and standard. Your dentist knows which option will fit your needs depending on the teeth that have to be replaced. The following are three varieties of dental implants:
Endosteal Implants
The endosteal implants are the most typical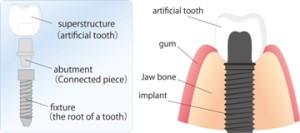 dental implant among patients. It is surgically implanted into the jawbone and is shaped like small screws.
After the gum tissue has healed, a second surgery is done that connects the original implant to a post. Afterward, an artificial tooth (or teeth) is attached to the post.
Subperiosteal Implants
Subperiosteal implants are metal frames that are positioned under the gum but above the jawbone and are used on patients with a shallow jawbone. After the gums heal, the frames are slowly fixed to the jawbone and posts are attached to the frames. The artificial teeth are then mounted to the posts
Transosteal Implants
These dental implants use a U-shaped frame or a metal pin that goes through the jawbone and gums and into the mouth. This technique is seldom used by dentists as it involves drilling to the lower jaw to bolt the plate at the bottom of the jawbone. It also requires opening the skin under the chin which can result in unsightly scarring.